New Orleans Patio Washing For Stress-Free Exterior Spaces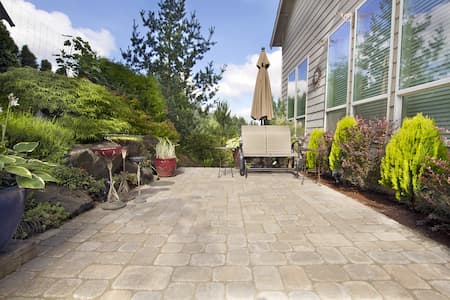 If you're searching for a dependable pressure washing pro to clean your New Orleans patio, contact the experts at 1NolaProWash. Our team of experienced patio washing pros has the equipment you need to get the job done right and we provide high-quality services with a 100% satisfaction guarantee!
When you work with us, you can feel confident that you will receive the following:
A patio cleaning service that is tailored to your specific needs and budget.
The highest quality equipment and cleaning products available on the market today.
An environmentally friendly approach to patio washing that will leave you with a beautiful, clean surface without harming the environment.
We know that your outdoor space is important to you and we want to help you keep it looking beautiful. With our services, you can rest easy knowing that your outdoor space is always clean and ready for use. Reach out today for a New Orleans patio washing you can trust. We're looking forward to helping you.
Outdoor Living Area Washing For Beautifully Clean Exterior Entertainment Areas
Whether you're hosting a BBQ, a family reunion, or just hanging out with friends, you'll want your outdoor entertainment area clean and beautiful. At 1NolaProWash, we believe in making life easier for our customers. That's why we offer a variety of services that help you get the most out of your time spent outdoors.
Our patio washing service ensures that your patio is free from dirt, grime, and stains so that it looks its best for all of your gatherings. We also offer pressure washing for driveways and walkways so that they look as good as new—and stay looking like new! Keep your entertainment area in New Orleans open and reach out to the pros.
Outdoor Entertaining Space Cleaning Professionals: Worry-Free Exterior Surface Care
We know that maintaining an outdoor space can be difficult if you don't have the right tools or experience. That's why we offer full-service patio washing at competitive prices—we want to make it as easy as possible for you!
There's no need to worry about how dirty your patio is when our professionals come out to clean it. We'll get rid of any dirt and grime that has accumulated over time so your property looks better than ever before! If your outdoor living spaces also include brick and stone pavers, then don't forget to also use our paver sealing services to keep your hardscaped surfaces looking better for longer.
Frequently Asked Patio Cleaning Questions
Yes! We offer patio cleaning services that can handle any discoloration you might be seeing on your patio. From rust and grime to mold and mildew, our team of experts will work with you to determine the best course of action for restoring your patio to its original beauty.
Of course! Our plant-based products are safe for all surfaces and can help remove stubborn stains from your landscaping.
Patios are often overlooked when it comes to regular maintenance—but there are many benefits to keeping yours clean and shiny! If you want to elevate your outdoor environment and create a space that is fun, inviting, and attractive, patio cleaning is an investment worth considering.