Fence Cleaning Helps To Properly Maintain Your New Orleans Fence Line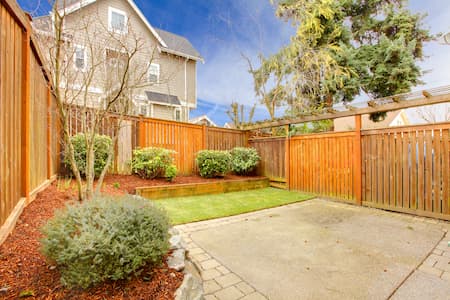 A fence is a great way to add privacy, security, and style to your New Orleans home. But it's important to keep in mind that fence washing is an ongoing process, and if you don't take care of it regularly, you could end up with an unsightly mess!
Fence cleaning helps to properly maintain your new fence line by removing dirt and debris from the surface of your wood or vinyl fencing. This prevents mold, mildew, and rot from forming on the wood or plastic surfaces of your fence. In addition to keeping your fencing looking clean and new, regular fence washing can help protect against unwanted pests like termites or carpenter ants. These pests are attracted by the moisture that accumulates on neglected fences and can cause major damage if left unchecked for too long.
If you're looking for quality fence washing in the New Orleans area, look no further than 1NolaProWash! We provide high-quality services at affordable prices (and no hidden fees). Our team members are fully trained professionals who are dedicated to providing exceptional customer service with every visit they make. So if you're ready to start taking care of your fence line with 1NolaProWash, call us today at 504-258-9274!
Fence Pressure Washing Professionals - Here To Help
At 1NolaProWash, we're proud to offer a comprehensive fence cleaning and pressure washing service for all of New Orleans. Whether you need help with your fence, house, or other property, our team is here to help.
We're not just another fence cleaning and pressure washing company; we're an industry leader in the area. We provide both commercial and residential services and can help with any fence or house washing needs you might have. Our team will work with you to ensure your fence looks its best before the summer heat arrives. Not only will we clean your fence and pressure wash it so that it stays looking great for years to come, but we'll also look out for any signs of wear or damage so that we can make sure any problems are addressed early on before they become serious issues.
If you're ready to bring your fence back into shape this spring or summer season, call 504-258-9274!
A Local Favorite For Wood & Vinyl Fence Washing Services
Fences are important parts of your home's exterior. They can be beautiful, but they also need to be kept clean! That's where we come in. We offer all types of fence washing options: wood, vinyl, metal, aluminum—you name it! Our team will take care of everything from start to finish, so you don't have to worry about a thing. You'll get top-quality service at an affordable price, guaranteed!
Frequently Asked Fence Cleaning Questions
Fence cleaning will make your fence last longer by keeping wood from rotting and protecting against weather damage. Pressure washing will remove dirt, grime, mold, mildew, and other harmful substances that can build up on a fence over time. Our services are available throughout New Orleans and surrounding areas. If you're looking for an affordable solution to help extend the life of your fence, don't hesitate give us a call today!
Your fence is a key part of the overall look and feel of your property, so it's important to keep it looking its best. In order to do that, you need to make sure that it's properly maintained and clean. Cleaning your fence before painting or staining can help protect the surface from damage caused by dirt and debris. This will ensure that your new paint job lasts as long as possible. It can also help prevent discoloration due to mold or mildew growth on the wood.
If you're not sure about how to get started with cleaning your fence, we offer professional services for pressure washing in New Orleans. Our team is here to help!